Medical management of adrenocortical carcinoma: Current recommendations, new therapeutic options and future perspectives
Adrenocortical carcinoma is a rare malignant tumor of poor prognosis, frequently requiring additional treatments after initial surgery. Due to its adrenolytic action, mitotane has become the first-line medical treatment in patients with aggressive adrenocortical carcinoma. Over the last 2 years, apart from the classical chemotherapy based on etoposide and platinum salts, several studies reported the use of drugs such as temozolomide, tyrosine kinase inhibitors or immunotherapy, with more or less convincing results. The aim of this review is to give further insights in the use of these drugs, and to describe potential therapeutic perspectives based on recent pangenomic studies, for the future management of these still difficult to treat tumors.
Le corticosurrénalome malin est une tumeur rare, de mauvais pronostic, nécessitant fréquemment le recours à des traitements médicamenteux après la chirurgie initiale. Depuis de nombreuses années, le mitotane est le traitement de 1re ligne des corticosurrénalomes agressifs, du fait de ses propriétés adrénolytiques. Cependant, ce traitement est souvent insuffisant et associé à une chimiothérapie de type Etoposide/Platine. Au cours des 2 dernières années, plusieurs études ont rapporté l'efficacité plus ou moins probante de nouvelles molécules telles que le temozolomide, les inhibiteurs tyrosine kinase ou l'immunothérapie. L'objectif de cette revue est de préciser les résultats de ces différentes études, et d'apporter quelques données de perspectives basées sur les études pangénomiques, dans l'objectif de mieux appréhender ce que pourrait être la prise en charge de ces tumeurs dans les années à venir.
Fichier principal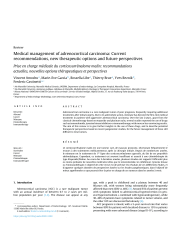 Adrenocortical carcinoma 2020.pdf (387.08 Ko)
Télécharger le fichier
Origin : Files produced by the author(s)