Metropolitan mountains: Sainte-Victoire as a public park in Aix-Marseille Provence Metropolis, France?
Metropolisation leads to the physical, functional, and symbolic integration of urban natural areas. In this context, can metropolitan mountains be considered vast public parks in their own right, adapting to new scales of functionality within their territory? To tackle this question, we carried out a questionnaire-based survey among local residents and users of Sainte-Victoire mountain in the Aix-Marseille-Provence Metropolis, France. Its results highlight the existence of proximity-based perceptions and practices towards Sainte-Victoire. In this respect, the mountain possesses certain characteristics that are associated with intra-urban green spaces. However, it differs from intra-urban green spaces in that its users' patterns of frequentation can be categorise as exceptional and episodic, and that access to and specific uses of it strongly depend on owning a car. This article therefore calls for an environmental management strategy that better coordinates emblematic urban natural spaces, such as Sainte-Victoire, with other metropolitan green spaces.
La métropolisation conduit à l'intégration physique, fonctionnelle et symbolique des espaces naturels urbains. Dans ce contexte, les montagnes métropolitaines peuvent-elles être considérées comme de vastes parcs publics à part entière, s'adaptant aux nouvelles échelles de fonctionnement de leur territoire ? Pour aborder cette question, nous avons réalisé une enquête par questionnaire auprès des riverains et usagers de la montagne Sainte-Victoire dans la Métropole d'Aix-Marseille-Provence. Ses résultats mettent en évidence l'existence de perceptions et de pratiques à l'égard de la Sainte-Victoire en lien avec sa proximité. A cet égard, la montagne possède certaines caractéristiques qui sont associées aux espaces verts intra-urbains. Cependant, elle se distingue de ces derniers par des pratiques de fréquentation du registre de l'exceptionnel et de l'épisodique, et que son accès et ses usages spécifiques dépendent fortement de la possession d'une voiture. Cet article appelle donc à une stratégie de planification paysagère qui coordonne mieux les espaces naturels urbains emblématiques, comme la Sainte-Victoire, avec les autres espaces verts métropolitains.
Fichier principal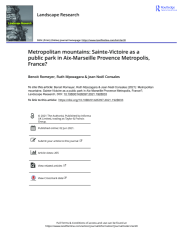 Metropolitan mountains Sainte Victoire as a public park in Aix Marseille Provence Metropolis (France).pdf (10.15 Mo)
Télécharger le fichier
Origin : Publication funded by an institution