« Les beaux rebuts d'Antoine Bauderon de Sénecé. Présence du Moyen Âge chez un lettré entre deux siècles (1683-1729) »
Antoine Bauderon de Sénecé, a little-known man of letters, was nevertheless praised by Voltaire and commented on until the 19th century. Compared to La Fontaine, notably for his art of medieval inspired storytelling, the presence of the Middle Ages in his work has not been the subject of any study. Yet references to the Middle Ages abound in this profuse and polymorphous work made of tales, satires, odes, operas, dialogues, etc. This article proposes an insight into Sénecé's poetic use of medieval references. His relativistic approach to the French language leads him to consider that in the future his French will be as difficult to understand as Old French is for him. From there, he elaborates a poetics of the beautiful waste, which consists in recycling the nuggets of the old time by the renovating imitation. The poetry perpetuates so the French literary heritage from the criterion of the taste.
Homme des lettres méconnu et considéré comme mineur, Antoine Bauderon de Sénecé a pourtant suscité l'éloge de Voltaire et fut commenté jusqu'au XIXe siècle. Comparé à La Fontaine, notamment pour son art du conte d'inspiration médiévale, la présence du Moyen Âge dans son œuvre n'a fait l'objet d'aucune étude. Pourtant les références au Moyen Âge abondent dans cette œuvre profuse et polymorphe faite de contes, satires, odes, opéras, dialogues, etc. Cet article propose un éclairage de l'usage poétique que fait Sénecé de la référence médiévale. Son approche relativiste de la langue française le conduit à considérer que dans l'avenir son français sera aussi malaisé à comprendre que l'est l'ancien français pour lui. De là, il élabore une poétique du beau rebut, qui consiste à recycler les pépites de l'ancien temps par l'imitation rénovatrice. La poésie perpétue ainsi le patrimoine littéraire français à partir du critère du goût.
Fichier principal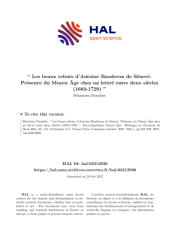 Sénecé Mélanges Denis Hüe HAL-1.pdf (279.49 Ko)
Télécharger le fichier
Origin : Files produced by the author(s)