Effet des métaux sur la méthylation du mercure chez les bactéries
Methylmercury is a neurotoxin, higly bioaccumulated in the food chain. The biotic processes of methylation of mercury are very well known. The effects of thiols and metals on Hg methylation is no longer debatable. However, the nature of these effects remains to be fully understood. This report present an overview of what is known about mercury and its biogeochemical cycle. Then, the effect of parameters, in particular metals on Hg methylation will be presented. The cases of Selenium, Iron, Zinc, Cadmium and Copper will be discussed. It should be noted that the effect of other metals on Hg methylation (not listed in this report) are unknown and requires further research. Finally, the methylation of mercury can be inhibited or improved depending on the concentration of metals to which a methylator is exposed. This means that the presence of commonly used hgcAB reporter genes is not necessarily indicative of the amount of methylmercury that a bacterial community can produce.
Le méthylmercure est une neurotoxine fortement bioaccumulable. Les processus biotiques de la méthylation du mercure sont assez bien connus. De même qu'aujourd'hui, l'existence d'effets des thiols et des métaux divalents sur la méthylation du mercure n'est plus à débattre. Ce rapport bibliographique présente tout d'abord des généralités sur le mercure et sur son cycle biogéochimique, notamment sur ce qui est connu des mécanismes de méthylation. Ensuite, les effets de certains paramètres sur la méthylation du Hg, particulièrement des métaux seront présentés. Dans le présent rapport, les cas du Sélénium, du Fer, du Zinc, du Cadmium et du Cuivre seront abordés. Il faut noter qu'il existe encore de nombreux métaux dont les effets sont inconnus. Au final, la méthylation du mercure peut-être inhibée ou améliorée en fonction de la concentration des métaux à laquelle un microorganisme méthylateur est exposé. Cela veut dire que la présence de gènes rapporteurs hgcAB communément utilisée n'est pas forcément révélatrice de la quantité de méthylmercure qu'une communauté bactérienne peut produire.
Fichier principal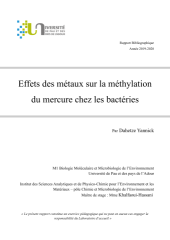 Rapport_DahetzeYannick_MetauxMethylationHg (1).pdf (588.07 Ko)
Télécharger le fichier
Origin : Files produced by the author(s)