Norme et usage, deux clefs de voûte dans l'évolution des langues et des cultures
The evolution of our romanic languages, stemmed from latin fragmentation on different territories and substrata, has intervened step by step throughout the ages since their birth and has given rise to questions as well as debates. Our purpose is, in this paper, to go back over those important moments in this evolution, especially for the French and Romanian domains, in order to exemplify the paper that standard plays as well as some of internal or external motivations that may have had an impact on its progression. We aim to underscore the existence of convergent criteria which are used to make standards, to classify and of other criteria that permit to state the surrounding framework (linguistic, cultural or literary), before we linger over language and philology.
L'évolution de nos langues romanes, issues de la fragmentation du latin sur des territoires de substrats différents, s'est faite pas à pas tout au long des siècles depuis leur naissance et a suscité de tout temps des questionnements ainsi que des débats. Nous nous proposons, dans cette intervention, de revenir sur des moments-clefs de cette évolution, en particulier pour les domaines français et roumain, afin d'exemplifier le rôle de la norme ainsi que certaines des motivations internes et externes qui ont pu influer sur son cours. L'objectif sera de mettre en évidence l'existence de critères convergents servant à édicter et à classifier la norme ou le canon et d'autres qui permettent de spécifier dans quel cadre exact on se situe (linguistique, culturel ou littéraire), avant de s'attarder sur la langue et sur la philologie.
Fichier principal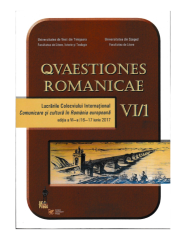 QuaestionRomaEVNormeetusag.pdf (5.87 Mo)
Télécharger le fichier
Origin : Explicit agreement for this submission