Traduction et plurilinguisme, de la pratique à la redécouverte théorique
In our everyday life as well as in teaching and forming activities, we are face to face with some situations when translation and multilingualism represent some tangible and fundamental ideas and concrete results which illustrate the high degree of difficulty underlying the methodological process. The study of some French or Rumanian extracts aims to display the method carried by the translator, in order to establish a great number of criterions as well as the ability to master many languages in a given context. Translating is, in fact, an individual work and it rarely corresponds in all respects to the original on which it is based, which will raise some questions, in order to make or formulate once again a new hypothesis and rules in that matter. In the same way, multilingualism and its partial specialization permit us to question about some concepts that, at first sight, seem obvious but that requires, when confronted with reality, an adaptation to some innate or acquired techniques and to some rules that manage the handling of many languages at individual level.
Dans la vie de tous les jours comme dans l'enseignement ou la formation, nous sommes confrontés à des situations où la traduction et le plurilinguisme représentent des données tangibles et des résultats concrets qui illustrent la difficulté du processus méthodologique sous-jacent. L'étude de fragments de textes en versions française et roumaine a pour objectif de mettre en évidence la méthodologie adoptée par le traducteur, en vue d'établir un certain nombre de critères ainsi que sa capacité à maîtriser plusieurs langues dans un contexte donné. La traduction est, dans les faits, l'œuvre d'un individu et correspond rarement en tous points à l'original sur lequel elle s'est appuyée, ce qui soulèvera des questionnements, en vue d'établir ou de reformuler de nouvelles hypothèses et règles en la matière. De même, le plurilinguisme et sa spécialisation parcellaire nous permet de nous interroger sur des concepts qui, de prime abord, semblent aller de soi mais qui nécessitent, en cas de confrontation avec la réalité, une adaptation de certains mécanismes innés ou acquis et un repositionnement vis-à-vis des règles régissant le maniement de plusieurs langues chez un locuteur.
Fichier principal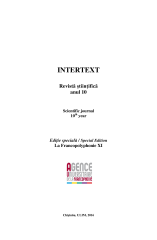 IIB41UlimIntertext2016TraductionetPlurilinguismeEV.pdf (700.61 Ko)
Télécharger le fichier
Origin : Explicit agreement for this submission