"Deux étoiles de la poésie du XIXe siècle : fragments traduits et comparés des créations de Iulia Hasdeu et de Ondine Valmore"
In this paper, the author aims to study, first of all, some French fragments of Iulia Hasdeu's poetic creation, by means of underlining, in particular, the different comparison techniques that will appear in them and that result as well from a specific literary context. Those fragments will be an occasion to come back to some aspects of the personality of Iulia Hasdeu that will be linked to Bogdan Petriceicu Hasdeu, her father (who has widely contributed to the spread of Romanian literature and culture) and to her visibility at European level. Then, the author will present Ondine Valmore, another poetess, French, who was born at the same century, in order to point some possible similarities in their style and the themes they use. Once again, the analysis of some fragments of her work will require the highlighting of some outstanding aspects of the authors' life, by referring to the persons close to her. The objective will be to contribute to testify to the importance of both of those poetesses on the socio-cultural scene at that time as well as their topicality.
Dans cette intervention, l'auteur se propose d'étudier, dans un premier temps, certains fragments français de la création poétique de Iulia Hasdeu, en mettant en avant, en particulier, les différentes techniques de comparaison qui apparaîtront dans ceux-ci et qui résultent aussi d'un contexte littéraire spécifique. Ces fragments seront l'occasion de revenir sur des aspects de la personnalité de Iulia Hasdeu qui sera mise en lien avec Bogdan Petriceicu Hasdeu, son père (qui a largement contribué à l'essor de la littérature et de la culture roumaines) et à sa visibilité au niveau européen. Dans un second temps, l'auteur présentera Ondine Valmore, une autre poétesse, française, qui a éclos au même siècle, afin d'établir de possibles concordances aux niveaux du style employé et des thématiques abordées. À nouveau, l'analyse des fragments de création nécessitera la mise en avant des traits marquants de la vie de l'auteur, en faisant référence à ceux qui l'ont entourée. L'objectif sera de contribuer à témoigner de l'importance de ces deux poétesses dans le paysage socio-culturel de l'époque ainsi que de leur actualité.
Fichier principal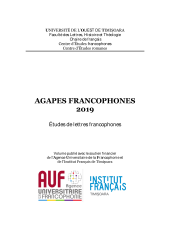 Agapes2019EVIHasdeuOValmore.pdf (806.59 Ko)
Télécharger le fichier
Origin : Explicit agreement for this submission