La domination informelle des milieux économiques marseillais en Afrique (1815-1880) : acteurs, enjeux, limites
The informal domination of Marseille's economic circles in Africa (1815-1880): actors, issues, limits During the nineteenth century, the port of Marseille opened up fully to Africa. To Algeria, of course, but also to Tunisia, Morocco, Egypt, Libya, Western and Eastern coasts of Africa, and Madagascar. The interest of Marseille economic circles for Africa was both gradual and multi-directional. It responded to two successive economic strategies that were closely linked but still differed significantly in some notable respects: the quest for commercial expansion by agreement with the incumbent African rulers (1815-1880), excepting the somewhat exceptional case of Algeria; and, from the 1880s onwards, the desire to frame their economic activities within colonial rule. This article focus on the first historical sequence and intend to question the degree of relevance of a number of concepts – "informai empire", "libéral imperialism" or "imperialism of free trade" – in characterizing the relations between Marseille economic circles and Africa from 1815 to 1880.
Au cours du xixe siècle le port de Marseille s'ouvre pleinement à l'Afrique. À l'Algérie, bien évidemment, mais aussi à la Tunisie, au Maroc, à l'Égypte, à la Libye, aux rivages de l'Ouest et de l'Est africain et à Madagascar. L'intérêt des milieux économiques marseillais pour l'Afrique est à la fois progressif et tous azimuts. Il correspond à deux positionnements politiques successifs qui entretiennent entre eux des liens étroits, tout en offrant des discontinuités notables : la recherche, hormis le cas un peu particulier de l'Algérie, d'une expansion commerciale dans le cadre d'une entente avec les autorités africaines en place (1815-1880) ; le souhait d'inscrire leur activité économique dans un cadre colonial à partir des années 1880-1890. Cet article vise à étudier la première séquence de cette histoire et à analyser le niveau d'opérabilité d'un certain nombre de notions – « empire informel », « impérialisme libéral » ou « impérialisme du libre-échange » – pour caractériser les relations entre les milieux économiques marseillais et l'Afrique au cours des années 1815-1880.
Fichier principal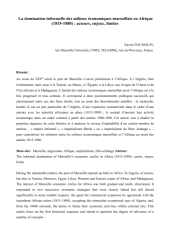 DAUMALIN reprise La domination informelle .pdf (321.3 Ko)
Télécharger le fichier
Origin : Files produced by the author(s)