Literary identities and the national novel in the inter-war period in France
Las identidades literarias y la novela nacional en el periodo de entreguerras en Francia
Identitèmes littéraires, roman national et chansons dans la France de l'entre-deux-guerres
The article deals with the question of identitèmes and especially those containing the word "France". The period chosen, the inter-war period, is a fertile one for this type of production, due to the new geopolitical positioning of France after the Great War. In this perspective, the article studies the link between the national novel and language creation. The author analyses certain sociological changes in order to understand how interwar identities, such as "Douce France", were able to fuel identity conflicts that are still active today.
El artículo aborda la cuestión de las identidades y, especialmente, las que contienen la palabra "Francia". El periodo elegido, el de entreguerras, es un periodo fértil para este tipo de producción, debido al nuevo posicionamiento geopolítico de Francia tras la Gran Guerra. En esta perspectiva, el artículo estudia el vínculo entre la novela nacional y la creación de la lengua. El autor analiza ciertos cambios sociológicos para comprender cómo las identidades de entreguerras, como la "Douce France", pudieron alimentar conflictos identitarios que siguen activos en la actualidad.
L'article traite de la question des identitèmes et tout particulièrement de ceux qui contiennent le mot « France ». La période choisie, l'entre-deux-guerres, est une période féconde pour ce type de productions, en raison du nouveau positionnement géopolitique de la France après la Grande Guerre. Dans cette perspective, l'article étudie le lien entre roman national et création langagière. L'auteur analyse certaines mutations sociologiques afin de comprendre comment des identitèmes de l'entre-deux-guerres, tel « Douce France », ont pu nourrir des conflits d'identité, qui sont encore actifs aujourd'hui.
Fichier principal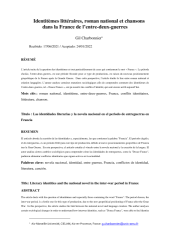 11. Varia_3_Charbonnier (2).pdf (264.45 Ko)
Télécharger le fichier
Origin : Files produced by the author(s)