Mediations of an "untranslatable" cultural heritage
Mediaciones de un patrimonio cultural "intraducible"
Médiations d'un patrimoine "intraduisible"
Through a museological script that explores the untranslatability of the cultural heritage object in general, and pre-Columbian art in particular, this article proposes to review certain strategies of heritage mediation, crossed by various disciplines such as archeology, history, art and anthropology. Based on the iconographic analysis of the archaeological pieces, the application and reception of the discourse used reveals that the heritage value is not inscribed in the objects, but in the social correspondences of their meanings. In effect, the processes of interpretation of the objects that involve iconographic, cultural and temporal analogies are manifested as approximations of the past from different reference points. Thus, the uses and forms acquired by archaeological heritage are successively transformed according to the mediations in which it is inserted.
A través de un guion museológico que aborda la intraducibilidad del objeto patrimonial en general, y del arte precolombino en particular, este artículo propone revisar ciertas estrategias de mediación patrimonial, atravesadas por diversas disciplinas como la arqueología, la historia, el arte y la antropología. En base al análisis iconográfico de las piezas arqueológicas, la aplicación y la recepción del discurso empleado, revela que el valor patrimonial no se encuentra inscrito en los objetos, sino que en las correspondencias sociales de sus significados. En efecto, los procesos de interpretación de los objetos que conllevan las aproximaciones iconográficas, culturales y analogías temporales se manifiestan como aproximaciones del pasado desde distintos referenciales. Es entonces que, los usos y las formas que adquiere el patrimonio arqueológico, se transforman sucesivamente según las mediaciones en las que se inserta.
A travers un parcours muséologique portant sur l'intraduisibilité des objets du patrimoine en général, et de l'art précolombien en particulier, cet article se propose de passer en revue des stratégies de médiation du patrimoine, traversées par diverses disciplines telles que l'archéologie, l'histoire l'art et l'anthropologie. Sur la base de l'analyse iconographique des artefacts archéologiques, l'application et la réception de l'approche du discours utilisé, révèle que la valeur patrimoniale n'est pas inscrite dans les objets eux-mêmes, mais au sein des correspondances sociales de leurs significations. En effet, les processus d'interprétation des objets impliqués dans les analogies iconographiques, culturelles et temporelles se manifestent par des approximations du passé suivant différents points de référence. Les usages et les formes du patrimoine archéologique sont successivement transformés en fonction des médiations dans lesquelles celui-ci est inséré.
Fichier principal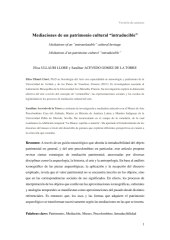 Article E. Ullauri Llore - Acevedo Gomez de la Torre - version des auteures.pdf (769.72 Ko)
Télécharger le fichier
Origin : Files produced by the author(s)
Licence : CC BY NC - Attribution - NonCommercial