Le commerce français du corail de Méditerranée vers l'Inde et la Chine aux XVIIe et XVIIIe siècles
This article focuses on an emblematic product of early modern Eurasian trade: Mediterranean coral. This commodity is present in several works of historians, but remains poorly studied for itself. The example of French trade to India and China during the 17th and 18th centuries provides an insight into the main players in this singular branch of activity, examines the methods of transport and commercialisation, identifies Asian markets, helps to understand the profits made from sales, and finally determines whether the traders' interest was episodic or recurrent in this commodity that brought appreciable profits. In doing so, this work attempts to synthesize the lines of investigation developed sixty years ago by specialists in long-distance trade of the Annales school, Louis Dermigny first, and the recent contributions of historians who have chosen products as scope for research in global history.
Cet article s'intéresse à un produit emblématique du commerce eurasiatique de l'époque moderne, le corail de Méditerranée. Cette marchandise est présente dans plusieurs travaux d'historiens, mais reste finalement assez peu étudiée pour elle-même. L'exemple du commerce français vers l'Inde et la Chine au cours des XVIIe et XVIIIe siècles permet de connaître les principaux acteurs de cette singulière branche d'activités, d'examiner les modalités de transport et de commercialisation, de cerner les marchés asiatiques, d'approcher les bénéfices retirés des ventes et de déterminer finalement si l'attention des négociants à son égard relevait d'un intérêt épisodique ou d'un attachement régulier à une marchandise apportant d'appréciables bénéfices. Par ces objectifs, ce travail opère la synthèse entre les recherches menées il y a une soixantaine d'année par les spécialistes des échanges commerciaux de longue distance de l'École des Annales, Louis Dermigny en tête, et les apports récents d'historiens ayant choisi les produits comme porte d'entrée des recherches en histoire globale.
Fichier principal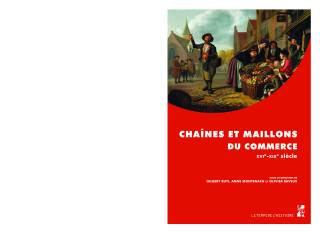 Le commerce français du corail.pdf (5.17 Mo)
Télécharger le fichier
Origin : Publisher files allowed on an open archive