Organize crime. Realities and representations. Italy and Latin America.
Delincuencia organizada. Realidades y representaciones.
Le crime organisé. Réalités et représentations. Italie et Amérique Latine
La criminalità organizzata. Realtà e rappresentazioni. Italia e America Latina
This issue of the Cahiers d'Études Romanes will only deal with the reality of organised crime in the Romance language countries, and does not pretend to give an overview of the global influence and development of organised crime. development of organised crime. The project of the editors of this issue was rather to collect a series of studies on the literary and visual representations of this scourge in Italy and in Latin American countries. There are already a number of researchers, centres and associations dealing with the "criminal question", and the studies published in this issue are part of this tradition. The team of the journal has deliberately focused on representations of organised crime, systematically excluding accounts of organisations labelled as terrorists, except where it was unavoidable in view of the intertwining of crime and terrorism in some countries.
Este número de los Cahiers d'Études Romanes aborda únicamente la realidad de la delincuencia organizada en los países de habla románica, sin pretender ofrecer una visión de conjunto de la influencia y el desarrollo de la delincuencia organizada a escala mundial. Más bien, el proyecto de los editores de este número era recopilar una serie de estudios sobre las representaciones literarias y visuales de esta lacra en Italia y los países latinoamericanos. Existen ya numerosos investigadores, centros y asociaciones que se ocupan de la "cuestión criminal" y los estudios publicados en este número se inscriben en esta tradición. El equipo de la revista se ha centrado deliberadamente en las representaciones de la delincuencia organizada, excluyendo sistemáticamente los relatos sobre organizaciones calificadas de terroristas, salvo en los casos en que resultaba inevitable a la luz de la imbricación entre delincuencia y terrorismo en algunos países.
Ce numéro des Cahiers d'Études Romanes ne s'occupera qu'en filigrane de la réalité du crime organisé dans les pays de langue romane, et ne prétend pas non plus donner un aperçu de l'influence et du développement global du crime organisé. Le projet des responsables de ce numéro a été plutôt celui de recueillir une série d'études sur les représentations littéraires et visuelles de ce fléau en Italie et dans les pays d'Amérique Latine. Il existe déjà nombre de chercheurs, de centres et d'associations qui s'occupent de la « question criminelle », et les études publiées dans ce numéro s'inscrivent dans cette tradition. L'équipe de la revue a délibérément focalisé son attention sur les représentations du crime organisé en écartant systématiquement les récits concernant les organisations qualifiées de terroristes, sauf là où il était inévitable au vu de l'imbrication entre crime et terrorisme dans certains pays.
Questo numero dei Cahiers d'Études Romanes tratterà solo la realtà della criminalità organizzata nei Paesi di lingua romanza, senza pretendere di fornire una panoramica dell'influenza e dello sviluppo della criminalità organizzata a livello globale. Il progetto dei redattori di questo numero è stato piuttosto quello di raccogliere una serie di studi sulle rappresentazioni letterarie e visive di questo flagello in Italia e nei Paesi dell'America Latina. Esistono già numerosi ricercatori, centri e associazioni che si occupano della "questione criminale" e gli studi pubblicati in questo numero si inseriscono in questa tradizione. Il team della rivista si è deliberatamente concentrato sulle rappresentazioni della criminalità organizzata, escludendo sistematicamente i resoconti delle organizzazioni etichettate come terroristiche, tranne nei casi in cui ciò era inevitabile alla luce dell'intreccio tra criminalità e terrorismo in alcuni Paesi.
Fichier principal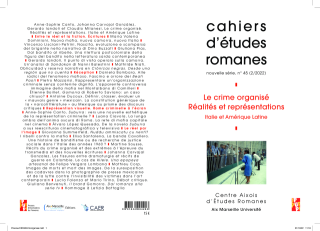 Cahiers études Romanes 45 Crime organisé.pdf (5.88 Mo)
Télécharger le fichier
Origin : Publication funded by an institution
Licence : ETALAB - Open licence