Les « non-consumptive research uses » des ressources numériques
Non-consumptive research is research in which the researcher's only use of a digital resource is to apply computer (computational) analysis to it, rather than to 'humanly' read and understand substantial parts of it in order to intellectually assimilate its content. Examples of non-consumptive research uses are text extraction, automated text analysis, automated translation, automatically generated synthesis and statistical reports, automated indexing, etc. Legal consequences of this concept in Anglo-Saxon law are that since 2009, non-consumptive research has been treated as fair use, i.e. use that does not require specific permission. This point is contested by representatives of copyright holders, but is widely used by university libraries to authorise their researchers to use digital resources for non-consumptive research purposes.
La non-consumptive research est la recherche où le seul usage que le chercheur fait d'une ressource numérique est d'y appliquer une analyse informatique (computationnelle), et non d'en lire et comprendre « humainement » des parties substantielles afin d'assimiler intellectuellement son contenu. Exemples de non-consumptive research use : extraction de texte, analyse automatisée de texte, traduction automatique, synthèse et rapport statistique généré automatiquement, indexation automatique… Conséquences légales de cette notion dans le droit anglo-saxon : depuis 2009, la non-consumptive research est assimilée à un fair use, c'est-à-dire un usage ne nécessitant pas d'autorisation spécifique. Ce point est contesté par les représentants des ayants-droits, mais largement utilisé par les bibliothèques universitaires pour autoriser leurs chercheurs à utiliser les ressources numériques à des fins de non-consumptive research.
Fichier principal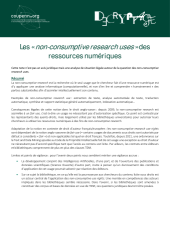 2023_10_24_Decryptages_Couperin_Non-consumptive_research.pdf (233.51 Ko)
Télécharger le fichier
Origin : Files produced by the author(s)
Licence : CC BY - Attribution