Temporalités, savoir-faire et modes d'action des enfants travailleurs migrants au sein de la parenté élargie en Afrique de l'Ouest
This article focuses on migrant children in West Africa in contexts where independent migrations during childhood constitute the norm rather than the exception. The article examines how the relative age and gender of a child influence his/her trajectory. It is based on the biographies of two young domestic workers – a girl in Coˆte-d'Ivoire and a boy in Burkina Faso. In describing their trajectories during the first eight to ten years of their migration to the city, this article shows that ideas surrounding age-appropriate work and the acquisition of new skills allow both girls and boys to increasingly exercise more power over their own lives. From these detailed trajectories it becomes clear that the dominant institutional categories, on the one hand, mask the diversity of activities of these very young migrants. On the other hand, they conceal the diachronic changes that take place in the course of their migratory work experience.
Cet article porte sur les enfants migrants en Afrique de l'Ouest dans des contextes où les migrations indépendantes dans l'enfance représentent davantage la norme que l'exception. Il interroge comment l'âge relatif et le sexe d'un enfant jouent sur sa trajectoire. L'article prend appui sur deux biographies de jeunes domestiques – une fille en Côte-d'Ivoire et un garçon au Burkina Faso. En décrivant leurs trajectoires au cours des huit à dix premières années de leur migration en ville, cet article montre comment les recompositions de leur entourage et l'apprentissage de nouveaux savoirs permettent peu à peu aux adolescent(e)s d'exercer davantage de pouvoir sur leur propre vie. A partir de ces éléments empiriques, nous constatons que les catégories institutionnelles dominantes, d'une part, masquent la diversité des activités de ces très jeunes migrant(e)s. D'autre part, elles occultent les changements diachroniques qui ont lieu au cours même de leur expérience migratoire de travail.
Fichier principal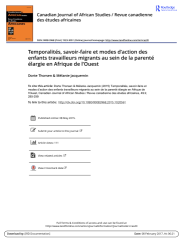 Thorsen et Jacquemin - 2015 - Temporalités, savoir-faire et modes d'action des e.pdf (360.72 Ko)
Télécharger le fichier
Origin : Publisher files allowed on an open archive
Licence : ETALAB - Open licence