Myth-making and Uchronia: The Advent of a Fascist America in Nathanael West's A Cool Million (1934)
Mitopoética y ucronía: el advenimiento de una Americana fascista en A Cool Million (1934) de Nathanael West
Mythopoétique et uchronie : l'avènement d'une Amérique fasciste dans A Cool Million (1934) de Nathanael West
Nathanael West's A Cool Million (1934) has been largely viewed as both a deadpan parody of the «Rags to Riches» success story popularized by Horatio Alger and a satire on nascent fascism in Depression-era America. In the novel, two storylines cross-pollinate: ex-President Nathan «Shagpoke» Whipple's successful fascist revolution and young Lemuel Pitkin's thwarted Algeresque success story. As young Pitkin gets dismantled and eventually assassinated, the retrained politician sets out to create his own Revolutionary Party to save his country from decay. This paper will re-articulate the two trajectories and show how they actually inform an American fascist myth. I will argue that in the context of the Depression, A Cool Million emerges as a uchronia, an alternate history dramatizing the advent of a dictator who decides to exterminate all that is un-American, seizing upon Lemuel Pitkin's martyr to forge and enunciate the official mythology of the new political regime.
La novela A Cool Million (1934) escrita por Nathanael West se considera como una parodia socarrona del famoso cuento «Rags to Riches» popularizado por Horatio Alger, y también como una sátira del fascismo emergente, en tiempos de la Gran Depresión americana. En esta novela corta, dos relatos se van desplegando y cruzando: por una parte, la revolución fascista llevada hasta su desenlace por el ex-presidente Nathan «Shagpoke» Whipple y, por otra parte, el fracaso de la success story argelina de Lemuel Pitkin. Mientras el joven Pitkin se encuentra progresivamente despojado y finalmente asesinado, el político reconvertido se dispone a crear su propio Partido Revolucionario para salvar a su país de la decadencia. En este artículo en el cual se estudiarán conjuntamente las dos trayectorias, demostrando que forman un verdadero mito fascista americano, intentaré probar que, en el contexto de la Depresión, A Cool Million aparece como una ucronía, o sea una historia alternativa que dramatiza el advenimiento de un dictador deseoso de exterminar todo lo antiamericano, apoderándose inclusive del martirio de Lemuel Pitkin para forjar y enunciar la mitología oficial del nuevo régimen político.
Écrit en 1934 par Nathanael West, A Cool Million se lit à la fois comme une parodie cynique du mythe du « Rags to Riches » popularisé par les success stories d'Horatio Alger, et comme une satire de la montée du fascisme dans l'Amérique de la Dépression. Dans le roman, deux récits se déploient de façon croisée : la révolution fasciste menée à son terme par Nathan « Shagpoke » Whipple et l'échec de Lemuel Pitkin dans sa success story « algérienne ». Tandis que le jeune Pitkin est graduellement dépouillé et finalement assassiné, l'homme politique reconverti se lance dans la création de son propre parti révolutionnaire pour sauver le pays de la décadence. Dans cet article qui combinera les deux trajectoires et montrera qu'elles façonnent en fin de compte un mythe fasciste américain, je défends l'idée que A Cool Million apparaît comme une uchronie sur fond de Dépression, une histoire alternative qui met en scène l'avènement d'un dictateur qui prend la décision d'éradiquer tout ce qui n'est pas américain, allant jusqu'à s'emparer du martyre de Lemuel Pitkin pour fonder et énoncer la mythologie du nouveau régime politique.
Fichier principal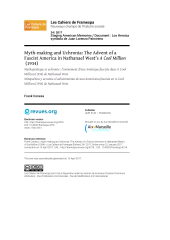 framespa-4276.pdf (287.63 Ko)
Télécharger le fichier
Origin : Publisher files allowed on an open archive