Savoirs et conflits de savoirs en éducation à l'environnement et au développement durable : le cas des dispositifs éco-orientés UNESCO
We propose a method of analysis of formal, non-formal and informal educations as a way of reading territorial development processes. We position the transmission of knowledge as an issue of power, and consider the institution as a powerful legitimator of selection of knowledge on the territories. In rural areas, environmental knowledge occupies a central position, but there is a change of model, between environmental education, current education injunctions for sustainable development, and positioning of science. We propose to examine in this light the case of eco-oriented UNESCO schemes. We have compiled a database of 113 European Geoparks and then targeted three of these geoparks on both sides of the Mediterranean Sea (France-Spain-Morocco) to study the systems of transmission of knowledge, including in their conflicting dimension. The results show, on the one hand, a strong discrepancy between the curricular intentions of UNESCO Global Geoparks program, centered on values ​​and practices of sustainable development, and local curricula, which are more centered on naturalistic sciences and local identity. We show that knowledge flows and actors' games are essentially "top down" with a reduction and an instrumentalisation of vernacular knowledge.
Nous proposons une méthode d'analyse des éducations formelles, non formelles et informelles comme mode de lecture des processus de développement des territoires. Nous positionnons la transmission des savoirs comme un enjeu de pouvoir et considérons l'institution comme un puissant légitimateur de sélection de savoirs sur les territoires. Dans les milieux ruraux, les savoirs environnementaux occupent une position centrale, mais il s'opère un changement de modèle entre éducation à l'environnement, injonctions actuelles d'éducation au développement durable, et positionnement des sciences. Nous proposons d'examiner sous cet angle, le cas des dispositifs éco-orientés UNESCO. Nous avons constitué une base de données sur 113 Géoparcs européens, puis ciblé trois de ces géoparcs de part et d'autre de la Méditerranée (France, Espagne, Maroc) pour étudier les systèmes de transmission des savoirs, y compris dans leur dimension conflictuelle. Les résultats montrent d'une part, un fort décalage entre les intentionnalités curriculaires du programme des Géoparcs mondiaux de l'UNESCO, centrées sur les valeurs et les pratiques de développement durable, et les curriculums locaux, davantage centrés sur les sciences naturalistes et l'identité locale. Nous montrons que les flux de savoirs et les jeux d'acteurs sont essentiellement « de haut en bas » avec une réduction et une instrumentalisation des savoirs vernaculaires.
Fichier principal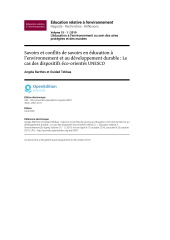 savoirs et conflits de savoirs AB OT.pdf (793.19 Ko)
Télécharger le fichier
Origin : Publisher files allowed on an open archive