L'art contemporain dans un territoire rural : quelle contribution à l'éducation relative à l'environnement ?
This article aims to identify educative functions of contemporary art to target environmental subjects, methods and practices of territorial education. We studied two participative projects of contemporary included in an informal educational device destinated to french population living in rural environment. This study aims to prove the existence of these functions of contemporary art. This methodology includes, on one hand, the analysis of literature based on these projects and, on the other hand, an anlysis of inquiries from sample of local population. Results are two fold because, first these artistic events participate in the social link and change opinions on the local environment and the territories. Anyway, they also have a great impact on economic and touristic development.
Cet article a pour objectif d'explorer les fonctions éducatives de l'art contemporain dans le domaine de l'éducation relative à l'environnement (ERE), plus spécifiquement en ce qui concerne le développement territorial. L'art contemporain contextuel qui prend appui sur le territoire pour exister, est considéré ici comme une contribution potentielle à l'éducation relative à l'environnement. Nous proposons d'abord une mise en lien de ces deux champs retraçant l'histoire de l'art contextualisé et rappelant les visées et valeurs de l'ERE. Puis, l'étude de deux dispositifs participatifs d'art contemporain à visée éducative dans des territoires ruraux du Sud de la France, l'un provenant d'une demande de la population, l'autre d'une initiative d'artistes, permettent de comprendre, au-delà des postures théoriques, ce qui se joue en réalité. La genèse des dispositifs, puis les effets sur les habitants participants ont été étudiés. Les résultats mettent en évidence que les expériences artistiques participatives n'impactent que modestement le rapport au territoire de vie de certains habitants. Si elles mobilisent successivement l'expérience esthétique et la démocratisation par le sensible, le décalage entre le processus éducatif qui nécessite du temps et la réalisation d'un projet artistique ponctuel en limite les effets. On observe aussi un dévoiement des objectifs réellement éducatifs vers une utilisation de l'art comme source de développement économique et touristique.
Fichier principal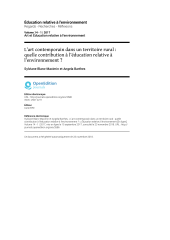 ere-2686.pdf (551.46 Ko)
Télécharger le fichier
Origin : Publisher files allowed on an open archive