"Belonging and Singularity in English Convent sin Exile on the Continent: the English Exception"
« Appartenance et singularité des couvents anglais en exil sur le continent : l'exception anglaise »
After the Henrician reformation and the dissolution of the monasteries, as Protestantism settled as the established religion under Elizabeth I, English Catholic women who wished to take the veil had no other choice but to leave their native country to embrace religious life on the Continent, amongst local communities, often in the North of France and the Spanish Netherlands. In those convents, the refugees embodied the plight of a Catholicism without borders which, in the face of Protestant persecution, refused to be defeated and, on the contrary, grew in fervour. Yet although they proudly belonged to the universal Church of Rome, English nuns were different from their Continental Sisters. A brief study of some of the twenty-two convents founded specifically for English entrants during the seventeenth century will reveal the most salient aspects which made English convents in exile exceptional.
Après la Réforme henricienne et la dissolution des monastères, et la pérennisation d'un régime protestant sous Élisabeth I, les catholiques anglaises qui souhaitent prendre le voile n'ont d'autre choix que de quitter leur sol natal pour entrer en religion sur le continent au sein des communautés locales, souvent dans le nord de la France ou les Pays-Bas espagnols. Dans ces couvents, les réfugiées incarnent un catholicisme sans frontière qui, bien qu'attaqué par ses adversaires protestants, refuse de se soumettre mais, au contraire, redouble de ferveur. Pourtant, malgré leur appartenance revendiquée à l'Église universelle de Rome, les religieuses anglaises se distinguent de leurs consœurs continentales. Une brève étude de quelques-uns des vingt-deux couvents anglais fondés au cours du XVIIème siècle permet de lever le voile sur les aspects les plus saillants de la spécificité des couvents anglais en exil.
Fichier principal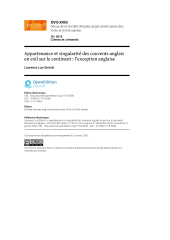 Exception anglaise.pdf (251.9 Ko)
Télécharger le fichier
Origin : Publisher files allowed on an open archive