Le robot fourmi AntBot. Conception et réalisation d'un robot bio-inspiré
As a technical process, "bio-inspired robotics" aims to create an artifact from functions identified in living organisms. Researchers at the Marseille Institute of Motion Sciences are trying to reproduce two main ones: navigation without GPS (Global Positioning System) and location in space. The "biorobotic" approach is based on the observation that nature has already solved a robotic problem: the Cataglyphis desert ant is one of the solutions. This ant is indeed able to locate itself in relation to its nest (starting point), to explore its environment in a random way and to return in a straight line to the nest. In the framework of the "AntBot" project, we are developing a path integrator allowing a robot to return to its starting point without GPS —a celestial compass allowing it to measure its course in relation to the polarized light of the sky. While this robot is inspired by the Cataglyphis ant for vision and navigation strategy, Antbot does not faithfully reproduce its biological structures. The hexapod robot is much larger than an ant and does not have a compound eye. Confronted with a natural environment, this robot not only allows us to strengthen our understanding of the biological functions of Cataglyphis, but also to design new bio-inspired technologies.
En tant que processus technique, la « robotique bio-inspirée » vise à la création d'un artefact à partir de fonctions identifiées dans le vivant. Les chercheurs et chercheuses de l'Institut des sciences du mouvement de Marseille tentent d'en reproduire deux principales : la navigation sans GPS (Global Positioning System) et le repérage dans l'espace. La démarche « biorobotique » part du constat que la nature a déjà résolu un problème de roboticien : la fourmi du désert Cataglyphis est l'une des solutions. Cette fourmi est en effet capable de se localiser par rapport à son nid (point de départ), d'explorer son environnement de manière aléatoire et de rentrer en ligne droite au nid. Dans le cadre du projet « AntBot », nous développons un intégrateur de chemin permettant à un robot de revenir à son point de départ sans GPS – une boussole céleste lui permettant de mesurer son cap par rapport à la lumière polarisée du ciel. Si ce robot s'inspire de la fourmi Cataglyphis pour la vision et la stratégie de navigation, Antbot ne reproduit pas fidèlement ses structures biologiques. Le robot hexapode est bien plus grand qu'une fourmi et n'a pas d'œil composé. Confronté à un environnement naturel, ce robot permet non seulement de conforter notre compréhension des fonctions biologiques de Cataglyphis, mais aussi de concevoir de nouvelles technologies bio-inspirées.
Fichier principal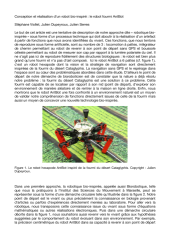 article_robot_fourmiLKPF_SV3.pdf (400.77 Ko)
Télécharger le fichier
Origin : Files produced by the author(s)