De la langue de la violence à la langue du désir
What can we say about those marked by the violence of language or whose distress can only be expressed as a scream or destructiveness? The failure of a language to allow a subject to engage his voice and subjectivity in it can have devastating consequences. This is shown by clinical work with certain subjects from other cultures, subjects exiled from their desire and/or having invested the language of the host country as a language of pure convention, reduced to its utilitarian aspects and no longer able to express subjective singularity. The author discusses the possibilities of trying to extricate oneself from the disaster by making the shift from the language of violence to the language of desire and invention.
Qu'en est-il de ceux qui sont marqués par la violence de la langue ou qui ne peuvent s'exprimer que sur le mode du cri et de la destructivité ? La langue peut exposer au ravage lorsque le sujet ne peut y impliquer sa voix et sa subjectivité. C'est ce que montre l'expérience clinique auprès de certains sujets provenant d'autres cultures par exemple, sujets exilés de leur désir et/ou ayant investi la langue du pays d'accueil comme langue de la conformité réduite à son aspect usuel, n'autorisant plus l'expression de la singularité. L'auteur ouvre des perspectives concernant les possibilités de s'extirper du désastre en effectuant le passage de la violence de la langue à la langue du désir et de l'inventivité.
Fichier principal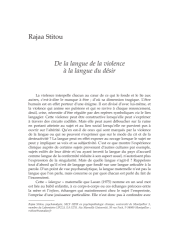 CM_102_0271-1.pdf (262.06 Ko)
Télécharger le fichier
Origin : Files produced by the author(s)