Approche métabolomique combinant l'analyse LC-MS/MS et les réseaux moléculaires pour suivre les constituants bioactifs des amandes de Calophyllum inophyllum (tamanu) pendant le processus de séchage
Tamanu oil, obtained from the nuts of Calophyllum inophyllum L. (Calophyllaceae), was traditionally used to cure various skin problems and ailments in French Polynesia. Nuts and containing oil are also used for skin care. Since the drying of nuts is an important stage for oil preparation, the objective of our study was to develop an analytical method to evaluate oil quality during nuts drying process following different drying parameters. Using a metabolomic approach combining LC-MS/MS analysis and molecular networking, the obtained data revealed differences in the metabolites chemical classes occurring in resulting oils. For the first time, our study provides new findings regarding the occurrence and evolution of the metabolites in tamanu nuts during the drying process. The developed method provided a powerful analytical tool aiming a better identification of bioactive components formed in tamanu nuts during drying process and will be helpful to produce high quality oil for a natural active cosmetic ingredient. An efficient metabolomic approach was implemented to identify markers inducing variability in chemical composition during drying process of nuts. Thus, this set-up analytical method successfully applied in tamanu could be used to the study of metabolites of a wide range of plants.
L'huile de tamanu, obtenue à partir des amandes de Calophyllum inophyllum L. (Calophyllaceae), est traditionnellement utilisée pour soigner divers problèmes et affections cutanées en Polynésie française. Les amandes et l'huile qu'elles contiennent sont également utilisées pour les soins de la peau. Elles sont connues pour traiter différents types d'affections cutanées et utilisées comme ingrédient cosmétique naturel. Le séchage des amandes étant une étape importante pour la préparation de l'huile, l'objectif de notre étude était de développer une méthode analytique pour évaluer la qualité de l'huile (composition chimique et rendement en huile) pendant le processus de séchage des amandes et en fonction de différents paramètres de séchage (facteurs abiotiques). En utilisant une approche métabolomique combinant l'analyse LC-MS/MS et la mise en réseau moléculaire, les données obtenues ont révélé des différences au sein des classes chimiques de métabolites présents dans les huiles. Des marqueurs induisant la variabilité de la composition chimique pendant le processus de séchage des amandes de tamanu ont pu être identifiés. La méthode développée fournit un bon outil analytique qui apporte une meilleure identification des composés bioactifs formés dans les amandes de tamanu pendant le processus de séchage et sera utile pour produire une huile de qualité en tant qu'ingrédient cosmétique naturel. De plus, cette approche métabolomique mise en place dans le cas du C. inophyllum pourra être utilisée pour l'étude des métabolites provenant d'une large gamme de plantes.
Fichier principal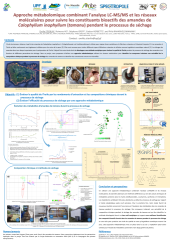 Poster_STIERLIN-1.pdf (2.4 Mo)
Télécharger le fichier
Origin : Files produced by the author(s)