Asterisk-Shaped Arenes and Heteroarenes Incorporating Sulfur, Oxygen and Nitrogen: Synthesis, Structures, Photophysics, Dynamic and Supramolecular Covalent Chemistry.
Arènes et Hétéroarènes Sulfurés, Oxygénés et Azotés sous Forme d'Astérisques: Synthèse, Structures, Photophysique, Chimie Covalente Dynamique et Supramolécuaire.
The content of this thesis focusses on functionalized and branched polysulfurated, polyoxygenated or polycyanated molecular asterisks incorporating either a benzene, a pyridine or a pyrene core. The main objectives are to report the synthesis and the structural, photophysical, supramolecular and covalent dynamic properties of the newly created molecular architectures, in order to develop further uses and applications of them in a near future, toward molecular electronics, imaging, materials and life sciences in general. This work also tackles the relation between topology and optoelectronic properties for opening a new direction and future perspectives in materials science and polyaromatic chemistry. It also questions some fundamental principles and mechanisms in organic chemistry, notably the reversibility of a main and historical mechanism in organic chemistry: the nucleophilic aromatic substitution, which is known since 1854. At first, the thesis covers new synthetic approaches to functionalize pyrene in its K-region, which has been neglected in spite of the historical importance of pyrenes in optoelectronic sensing, materials and biological sciences. It is followed by the synthesis of various sulfurated, oxygenated and cyanated molecular asterisks with a benzene or pyridine core, in search for a new field in dynamic covalent chemistry (DCC) with arenes and heteroarenes, by implementing and promoting reversible nucleophilic aromatic substitutions in DCC, while at the same time developing all-organic highly phosphorescent smart materials via a rigidity-induced phosphorescence (RIP) phenomena. Thus, we report the "Sulfur Dance" around arenes and heteroarenes from a reversible exchange of sulfur components around an aromatic template, a new process in aromatic chemistry. In order to study reversible SNAr reactions, several reaction conditions, substituent effects, analytical and separative methods were necessary in DCC for anayzing the created library of compounds. In that direction, we also analyzed the importance of π-extended sulfurated and oxygenated asterisks with a benzene core, incorporting phenyl, biphenyl, naphthyl or heteroaromatic arms, in search for some exalted photohysical properties or metal cations bindings of uses in supramolecular chemistry. Thereofore, this thesis covers broad areas of aromatic chemistry, basic reaction mechanisms, photophysics and dynamic covalent and supramolecular chemistry, towards materials and life sciences.
Le contenu de cette thèse porte sur les astérisques moléculaires fonctionnalisés, ramifiés et polysulfurés, polyoxygénés ou polycyanés incorporant soit un noyau benzénique, un noyau pyridine, ou un noyau pyrène. Les principaux objectifs sont de rapporter la synthèse et les propriétés structurales, photophysiques, supramoléculaires et covalentes dynamiques des architectures moléculaires nouvellement créées, afin de développer d'autres utilisations et applications de celles-ci dans un futur proche, vers l'électronique moléculaire, l'imagerie, les sciences des matériaux et de la vie, en général. Ce travail aborde également la relation entre la topologie (chaines, rubans, torsades, etc.) et les propriétés optoélectroniques afin d'ouvrir une nouvelle direction et des perspectives futures en science des matériaux et en chimie polyaromatique. Elle interroge également certains principes et mécanismes fondamentaux en chimie organique, notamment la réversibilité d'un mécanisme principal et historique en chimie organique : la substitution nucléophile aromatique, connue depuis 1854. Dans un premier temps, la thèse porte sur de nouvelles approches synthétiques pour fonctionnaliser le pyrène dans sa région K, ce qui a été négligé malgré l'importance historique des pyrènes dans les capteurs optoélectroniques, les matériaux et les sciences biologiques. Elle se poursuit par la synthèse de divers astérisques moléculaires soufrés, oxygénés et cyanés à noyau benzénique ou pyridinique, à la recherche d'un nouveau domaine de la chimie covalente dynamique (DCC) avec les arènes et les hétéroarènes, en mettant en œuvre et en promouvant des substitutions nucléophiles aromatiques réversibles pour la DCC, tout en développant des matériaux intelligents entièrement organiques hautement phosphorescents via un phénomène de phosphorescence induite par la rigidité (RIP). Ainsi, nous rapportons la « danse du soufre » autour des arènes et des hétéroarènes à partir d'un échange réversible de composants soufrés autour d'un template aromatique, un nouveau processus en chimie aromatique. Afin d'étudier les réactions SNAr réversibles, plusieurs conditions de réaction, effets de substituants, méthodes analytiques et séparatives étaient nécessaires pour analyser la bibliothèque de composés créés par DCC. Dans cette direction, nous avons également analysé l'importance des astérisques sulfurés et oxygénés avec un système π étendus autour d'un noyau benzénique, en incorporant des bras phényle, biphényle, naphtyle ou hétéroaromatiques, à la recherche de propriétés photophysiques exaltées ou de coordination de cations métalliques vers des applications en chimie supramoléculaire. Cette thèse couvre donc des larges domaines de la chimie aromatique, mécanismes réactionnels de base, photohysique et chimie covalente dynamique et supramoléculaire, vers les sciences de matériaux et de la vie.
Fichier principal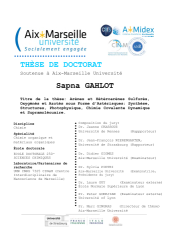 Gahlot Thesis 2.pdf (37.01 Mo)
Télécharger le fichier
Origin : Files produced by the author(s)