Un philosophe en exil : José Ortega y Gasset entre la Guerre Civile espagnole et la Seconde Guerre mondiale (1936-1945)
The article presents the biographical and intellectual career of José Ortega y Gasset during his exile (1936-1946), in order to refute the official hypothesis of his "political silence". Ortega firstly approves General Franco's uprising: despite the fact he keeps it secret, this position appears through his essays and causes his isolation in France and Argentina. He rectifies then his opinion criticising dictatorial regimes in his philosophical essays. Watched over by franquist authorities, criticized by the Republicans in exile, he maintains his strategy of silence as a way to protect himself. From Portugal, he prepares his return to Spain, where he hopes to recover his position of cultural leader, and contribute to liberalize the regime.
El artículo presenta el recorrido biográfico e intelectual de José Ortega y Gasset durante el exilio (1936-1946). Se desconstruye la tesis oficial de su "silencio político", mediante una lectura contextualizada de sus escritos. Ortega apuesta primero por el bando franquista: aunque privada, esta posición transparece en sus ensayos y le vale cierto aislamiento en Francia y en Argentina. Rectifica luego su posición criticando los regímenes dictatoriales en sus ensayos filosóficos. Vigilado por las autoridades franquistas, criticado por los exiliados, mantiene su estrategia del silencio como medida de protección. Desde Portugal, prepara su regreso a España, donde espera recuperar su posición de líder cultural y contribuir a una apertura del régimen.
L'article présente le parcours biographique et intellectuel du philosophe espagnol José Ortega y Gasset pendant l'exil (1936 -1946), du début de la Guerre civile jusqu'à son retour dans l'Espagne franquiste. Le propos déconstruit la thèse officielle du « silence politique » de cet intellectuel libéral, en proposant une lecture contextualisée de ses écrits. Ortega opte d'abord pour le camp franquiste: bien que privé, ce choix transparaît dans ses essais et lui vaut un isolement public en France puis en Argentine. Il rectifie vite sa position en critiquant, d'un point de vue philosophique, les régimes dictatoriaux. Surveillé par les autorités franquistes, critiqué par les républicains exilés, Ortega maintient sa stratégie du silence comme mesure de protection. Depuis le Portugal, il prépare son retour en Espagne, où il espère retrouver sa place de leader culturel et contribuer à une ouverture du régime.
Fichier principal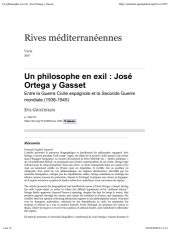 Fourmont-Giustiniani_2007_Article_Ortega-Un-philosophe-en-exil-1936-1945.pdf (263.84 Ko)
Télécharger le fichier
Origin : Publisher files allowed on an open archive