La vierge, la sorcière et le magistrat : Henry Fielding et l'affaire Elizabeth Canning, un fait-divers à la lisière de la fiction
Elizabeth Canning was a maidservant who claimed to have been held captive in a bawdy house by Mary Squires, a Gipsy woman, for almost a month. The writer and magistrate Henry Fielding became involved in the case but the inconsistencies in Canning's story and testimonies in favour of Squires aroused the suspicions of Sir Crisp Gascoyne, trial judge and Lord Mayor of London, resulting in Canning's conviction for perjury and transportation to America in 1754. Fielding published A Clear State of the Case of Elizabeth Canning in April 1753 to shed light on the case but his compassion for Canning made him depict her as an innocent girl and Squires as a cruel Gypsy, thereby echoing the stereotypical representations of the two women as virgin and witch in contemporary pamphlets and newspapers. However, A True State also considers, albeit very reluctantly, the possibility that the ideal of femininity embodied by Canning might conceal vice or madness.
Elizabeth Canning, jeune domestique londonienne, fut portée disparue en janvier 1753 et prétendit avoir été séquestrée par Mary Squires, une bohémienne, dans la maison d'une proxénète notoire. Écrivain et magistrat, Henry Fielding s'impliqua en sa faveur, mais l'invraisemblance du récit de Canning et les témoignages en faveur de Squires éveillèrent les soupçons du juge et lord-maire Sir Crisp Gascoyne, qui la fit condamner pour parjure en 1754 et déporter en Amérique. Fielding publia A Clear State of the Case of Elizabeth Canning en avril 1753 afin de faire la lumière sur les éléments du dossier. Toutefois, mu par sa compassion envers Canning, Fielding reprenait partiellement les figures de la vierge et de la sorcière omniprésentes dans le traitement médiatique de l'affaire, rapprochant les deux femmes de personnages fictionnels, tout en envisageant avec réticence l'éventualité que la folie ou le vice puissent se dissimuler sous le masque de l'idéal féminin contemporain.
Fichier principal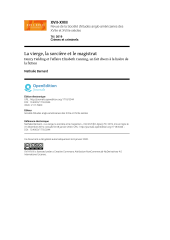 article SEAA1718.pdf (2.15 Mo)
Télécharger le fichier
Origin : Explicit agreement for this submission