Les gestes didactiques de métier d'enseignants stagiaires en éducation physique et sportive : une (re)configuration en contexte
This article focuses on the "didactic trade gestures" of physical education trainee teachers in different teaching contexts related to Physical Sports and Artistic Activities, to the school and to the profiles of students and teachers. The joint mobilization of a comparative and anthropological approach to the didactics and the clinic of the activity makes it possible to study these gestures according to three interwoven strata: a) the didactic actions that manifest themselves through specific corporal, gestural, proxemics and language techniques; b) the practical epistemology of the teacher in relation to its modalities of analysis in and on the action; and c) the subjective, institutional and cultural determinants. The main results reveal the singular ways in which each student teacher conducts learning in the classroom and how they analyze their activity. The trainee teachers' didactic trade gestures are characterized by the personal theory that they put into action with regard to the knowledge studied and their teaching. They depend on the context of intervention, cultural references, official prescriptions, initial training, but also on subjective factors, such as personal history, professional experience or the value system. Thus, the didactic trade gestures are actualized in context, a context which in return affects their stabilization or their renewal.
Cet article s'intéresse aux « gestes didactiques de métier » d'enseignants stagiaires d'éducation physique et sportive dans différents contextes d'enseignement liés aux activités physiques sportives et artistiques, à l'établissement scolaire ainsi qu'aux profils des élèves et du professeur. La mobilisation conjointe d'une approche comparatiste et anthropologique du didactique et de la clinique de l'activité permet d'étudier ces gestes selon trois strates imbriquées : a) les actions didactiques qui se manifestent par des techniques corporelles, gestuelles, proxémiques et langagières spécifiques ; b) l'épistémologie pratique du professeur en lien avec ses modalités d'analyse dans et sur l'action ; et c) les déterminants subjectifs, institutionnels et culturels. Les principaux résultats révèlent les modes d'agir singuliers de chacun des enseignants stagiaires en termes de conduite des apprentissages dans la classe et d'analyse de son activité. Les gestes didactiques de métier des stagiaires se particularisent par la théorie personnelle qu'ils mettent en actes à propos des savoirs mis à l'étude et de leur enseignement. Ils dépendent du contexte d'intervention, des référents culturels, des prescriptions officielles, de la formation initiale, mais également de facteurs d'ordre subjectif, comme l'histoire personnelle, l'expérience professionnelle ou le système de valeurs. Ainsi les gestes didactiques de métier s'actualisent en contexte, contexte qui en retour agit sur leur stabilisation ou leur renouvellement.
Fichier principal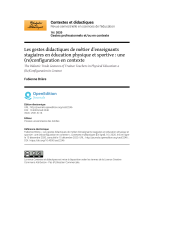 Brière-2020-ced-2246.pdf (796.66 Ko)
Télécharger le fichier
Origin : Publisher files allowed on an open archive