Collaborative research as an institution that incorporates research systems Case study of a mathematical problem-solving project
Une recherche avec des professeurs sur la résolution de problèmes en mathématiques dans le cadre de la convention SFERE-Provence/DAFIP : Recherche participative, collaborative, orientée-conception ?
Our chapter presents a way of modelling the factors, working methods and processes at work in an educational research project involving a collaboration between teachers and researchers. This modelling process takes as its touchstone research carried out in the Academy of Aix-Marseille over a two year-period: 2019-2020 and 2020-2021. The theoretical model falls within the scope of the anthropological theory of the didactic (ATD) and is based on the concepts of the institution, the relationship of an entity to an object and praxeology. Modelling the collaboration process enabled us to characterise the emerging research system and its functioning, as well as the conditions and constraints of the evolution of relationships to the object being studied: mathematical problem solving (MPS).
Fichier principal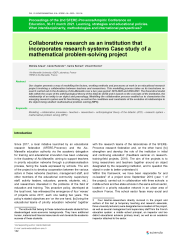 Sfere 2023-139-145.pdf (324.56 Ko)
Télécharger le fichier
Origin : Publication funded by an institution