Petites élèves et contrebasse. De l'artefact à l'instrument : le rôle du corps.
Our proposal is based on a study of the behavior of three 6-year-old students who are discovering the double bass. We will describe the methodology and the results obtained which allow a better understanding of the teaching-learning process through the body. This study shows how a didactic environment thought by the teacher from his own representations on the appropriation of the first gestures on the instrument (Terrien, 2017, 2015, Terrien et al. 2019) leads him to elaborate a didactic device where the learner's body enters in tension with the artifact (the double bass) that he must appropriate. We will observe that if the artefact constrains the learner in his acquisition of different knowledge (know-how, knowing how to be, even knowing how to say), he learns to circumvent its constraints in order to carry out the instrumental gestures necessary for sound production.
Apprendre par le corps : didactique et énaction. Notre proposition s'appuie sur une étude du comportement de trois élèves de 6 ans qui découvrent la contrebasse. Nous décrirons la méthodologie et les résultats obtenus qui permettent de mieux comprendre les processus enseignement-apprentissage par le corps. Cette étude montre comment un milieu didactique pensé par l'enseignant à partir de ces propres représentations sur l'appropriation des premiers gestes sur l'instrument (Terrien, 2017, 2015, Terrien et al. 2019) le conduit à élaborer un dispositif didactique où le corps de l'apprenant entre en tension avec l'artefact (la contrebasse) qu'il doit s'approprier. Nous observerons que si l'artefact contraint l'apprenant dans son acquisition des différents savoirs (savoir-faire, savoir-être, voire savoir-dire), il apprend à contourner ses contraintes pour réaliser les gestes instrumentaux nécessaires à la production sonore.
Fichier principal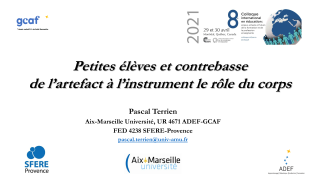 21.04.30 Corps et musique.pdf (998.41 Ko)
Télécharger le fichier
Origin : Files produced by the author(s)